Türkiye's first private Earth Observation satellite launched with Rakon GNSS Receiver on board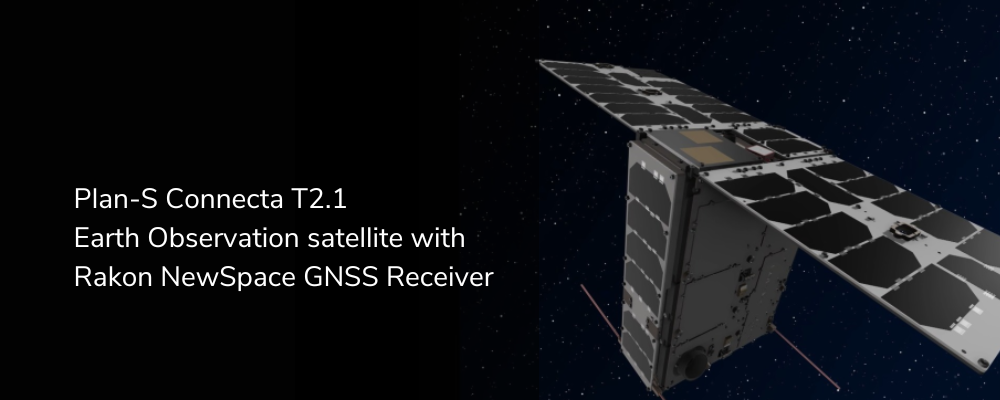 Plan-S' Earth Observation satellite Connecta T2.1, launched in April 2023, has been successfully submitting positioning readings using Rakon's NewSpace GNSS Receiver.
Plan-S successfully launched its first earth observation satellite, Connecta T2.1, into orbit with SpaceX Falcon 9 Transporter 7 mission on 15 April 2023. This marks the company's third satellite launched within a year, as they continue to explore satellite-based Internet of Things (IoT) and Earth observation services.

Plan-S, Türkiye's fastest growing private space technologies company, launched its third satellite, Connecta T2.1 with SpaceX Transporter-7 mission. All the design, development, integration and testing processes of Connecta T2.1 were completed under the Plan-S umbrella.

Connecta T2.1 is equipped with a high-resolution, multi-spectral earth observation camera. Connecta T2.1 is twice the size of the previous Connecta T1.1 and T1.2 satellites and is designed for earth observation missions including remote sensing and edge computing tests. Since reaching orbit, the satellite has been successfully submitting positioning readings using a GNSS receiver supplied by Rakon, a global leader in frequency control products and timing solutions. With a small footprint and low power consumption, the Rakon GNSS Receiver DB is specifically designed for small satellites. It provides multi-band and multi-constellation support, and processes signals from up to 448 channels simultaneously to provide high performance position, velocity and timing.

Sami Aslanhan, Chairman of Plan-S, is pleased to report that Connecta T1.1 satellite has travelled approximately 200 million kilometres around the Earth. "Connecta T1.1 has enabled the team to gain valuable experience and knowledge in satellite communications and has also been able to send photos from space to our control center, thanks to its miniature cameras. Tests of Internet of Things (IoT) devices have been conducted using the Connecta T1.2 satellite, with successful high-speed data transfer both from satellite to ground and from ground to satellite. It even sent a "selfie" video taken from space! With the launch of Connecta T2.1 satellite, the team has made a major step forward in their studies on earth observation and remote sensing."

According to Tugay Güzel, CEO of Plan-S, all these plans are complete by 2025. "Plan-S Team successfully designed and got ready for launch the first satellite in 8 months and the second satellite in 5 months, and the third satellite has now taken its place in orbit. In the fourth quarter of 2023, Connecta T3.1 and Connecta T3.2 will be simultaneously launched to test inter-satellite link capabilities. In 2024, Plan-S Team will send the first batch of satellites of IoT constellation, and by 2025 we aim to increase our global coverage and service quality by sending a large number of additional IoT satellites."

Darren Robinson, CMO of Rakon, says the collaboration with Plan-S is part of an exciting new phase for Rakon. "Working with leading NewSpace companies like Plan-S allows Rakon to draw on our expertise in frequency control solutions for space, telecommunications and precision positioning, to create products that are optimized for NewSpace platforms and payloads."
"Now with the confirmation of receiving positioning data from our GNSS receiver, we have our first in-orbit validation which is very important in this market."

Rakon's fast-growing NewSpace product portfolio includes advanced off-the-shelf, low SWaP-C equipment, oscillators and clock drivers.

About Plan-S Satellite and Space Technologies Inc.
Plan-S, Türkiye's one of the largest private initiatives in the satellite and space technologies industry, has established in 2021. The major purpose of Plan-S is to design and develop space technologies.
Plan-S focuses on satellite-based IoT connectivity technologies and develops all the necessary satellite elements including the communication, power management, and mission control subsystems. Furthermore, Plan-S aims to provide satellite-based connectivity services for various industries such as energy, smart agriculture, logistics, transportation, smart metering, etc. Plan-S continues its efforts to have a constellation that will provide IoT connectivity services starting from 2024 with the technologies and satellite subsystems it is developing.
Plan-S has its own capital investment for its own roadmap for research, development, and production. Operations of the company will continue at the new R&D Building, which is at the heart of Ankara, in Bilkent Cyberpark with a total area of 9,000 m². Plan-S Satellite and Space R&D Building offers a total of 2.500 m² of clean rooms with various technical infrastructures, experience areas, unique technological meeting rooms, and pleasant resting areas.
For more information visit https://www.plan.space.


About Rakon Space Solutions
Rakon's 40-year heritage in space products is demonstrated in over 50 international space programmes including Sentinel, Galileo, Globalstar, Mars Perseverance, Rosetta and more recently in large NewSpace Telecom and LEO PNT constellations. The company has been supplying ESA qualified products since the 1980s. In 2021 Rakon was the first in the world to make it onto the European Space Components Coordination (ESCC) Qualified Parts List (QPL) for selected crystals and oscillators.
For more information visit https://www.rakon.com/space.