Rakon has announced the release of ROD2522S2 – the world's smallest 24-hour holdover PPS Disciplined OCXO. The 25 x 22 x 12 mm surface-mount device is the first 0.5 ppb pk-pk class PPS Disciplined OCXO that achieves a holdover of 24 hours (1.5 µs, 5°C temperature windows). Nominal frequencies are available between 10 to 20 MHz. The ROD2522S2 offers an extended temperature range of -40°C to 95°C and achieves a frequency ageing of less than 0.2 ppb/day, with maximum compensated ageing of 0.02 ppb/day.
The product offers a significantly reduced package size and low power consumption for this performance level. With advanced circuity and a simulation optimised thermo-mechanical construction, these integrated solutions enable the PPS Disciplined OCXO to run smart compensation in a small package.
With 24-hour holdover performance (see Figure 1), the ROD2522S2 supports telecom grandmaster clock designs.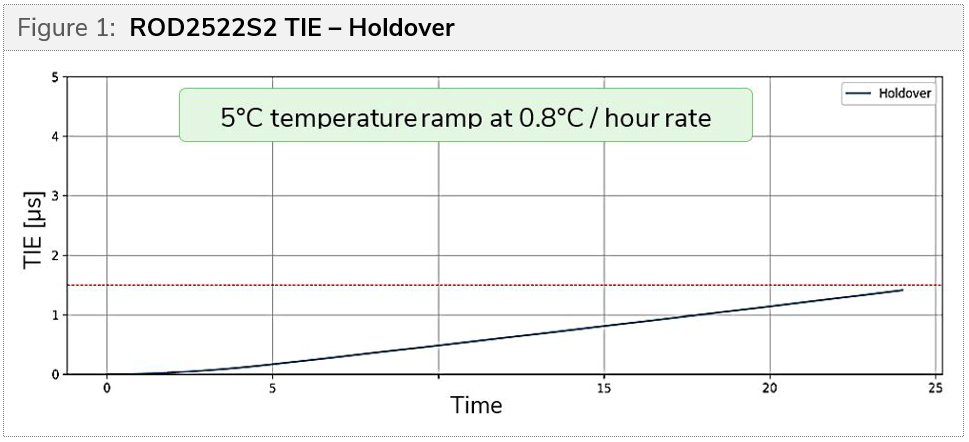 When working in conjunction with an industry-standard GNSS module, the PPS Disciplined OCXO uses a 1PPS input to compensate for ageing and is therefore guaranteeing the phase error on defined temperature excursions (see Figure 2).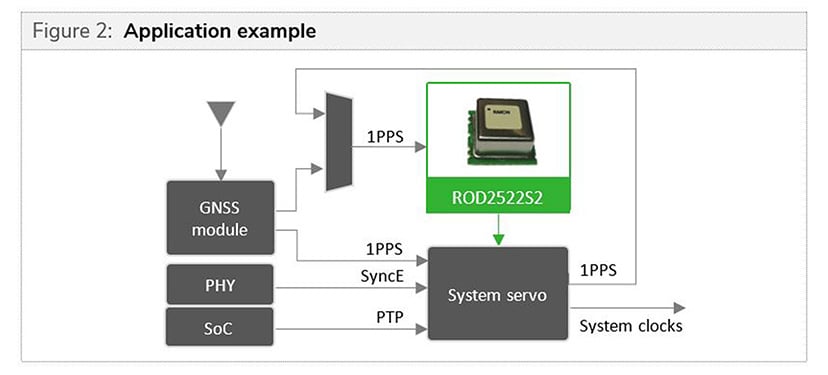 The ROD2522S2 was developed on a common 25 x 22 mm footprint, making it interchangeable with the current ROX2522. The main benefit is that existing systems using the ROX2522 can now be easily upgraded at any time to have superior holdover and frequency stability performance without additional investment in equipment redesign.
The miniature PPS Disciplined OCXO is ideal for applications where outstanding performance and small form factors are critical such as edge grandmasters, DU/CU/servers, cell-site routers, front-haul switches, NIC time cards, test equipment and GNSS modules.
Product Enquiries:
Email: sales@rakon.com. For more information, please view the ROD2522S2 datasheet.