Rakon has launched its Neptune™ Ultra Stable TCXO (US-TCXO) product family – the RNT7050 series. This new series offers best in class frequency stability of ±50 ppb for 5G and other telecommunication applications and is available in a 7x5 mm footprint.
At the core is Rakon's in-house designed and manufactured XMEMS™ crystal resonator technology. XMEMS™ is based on Rakon's proprietary NanoQuartz™ photolithography process.
Both the RNT7050A and the RNT7050AL1 maintain long term stability (ageing) of better than 1.5 ppm over 10 years. The products meet the stringent requirements of IEEE 1588v2, ITU-T G.813, G.8273.2 and G.8262 & G.8262.1.
The design and engineering of the RNT7050 series recognises that 5G Remote Radio Head (RRH) air interfaces need tight Error Vector Magnitude (EVM) limit masks, and thus low contribution to EVM from the phase noise of reference clocks.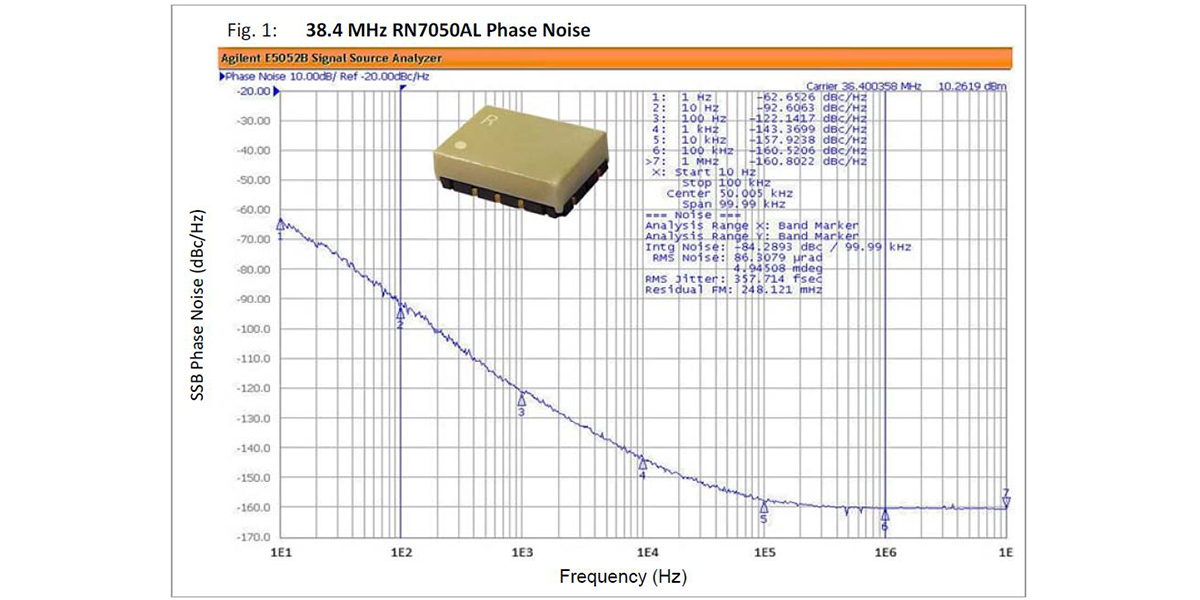 An outstanding low noise floor of -160 dBc/Hz enables tight Error Vector Magnitude masks to be met for 5G RRHs – making the RNT7050 series the device of choice for radio and network interfaces. Figure 1 above illustrates a RNT7050AL unit with a frequency output of 38.4 MHz operating with a phase noise floor down to -160 dBc/Hz.
The RNT7050 series offers ideal solutions for 5G and other telecommunication applications in which low sensitivity to temperature changes, low aging and low phase noise are critical.
The Neptune™ family utilises Rakon's patented 'tilt compensation' technology assuring the frequency stability is maintained at any control voltage and guaranteeing optimum performance over the life of the equipment.
Additionally, Rakon has solutions for high-resolution testing systems and offers compatible lead-times and pricing. These unique benefits make Neptune™ US-TCXOs the popular choice for equipment suppliers to major 5G network operators.
Rakon is a technology leader in the frequency control industry, with a 50+ year heritage. Please click on RNT7050A and RNT7050AL datasheets or email: sales@rakon.com for further information and support. Browse the full telecommunications section on our website to learn more about Rakon's many synchronising solutions for analogue Radio Frequency (RF), digital Input/Output (I/O) communications and digital computing.
---
1 The RNT7050AL, being less susceptible to the effects of airflow, is recommended for use to maintain optimum performance when forced-air cooling is used.