Rakon has announced the release of the world's smallest ASIC based OCXO meeting the stringent requirements of 5G Remote Radio Head (RRH), small cell, optical network and microwave transmission system applications. The ROM7050PA combines Rakon's renowned patented Mercury+™ASIC with advanced SC-cut strip crystal technology to deliver excellent frequency stability in a miniature package.
Key features include:
Smallest OCXO footprint industrywide: 7x5 mm
Excellent Frequency vs Temperature (FvsT) performance: ≤±20 ppb from -40 to 95°C (see Figure 1; -40 to 105°C available upon request)
Low frequency sensitivity to temperature: 0.1 ppb/°C
Low phase noise: noise floor as low as -160 dBc/Hz for 10 MHz devices
Fast warm-up time (for ±20 ppb stability): <15s at -25°C, <20s at -40°C
Long-term stability: ≤3ppm/10 years
Excellent g-sensitivity 1 ppb/g
Resilient to airflow; stable in harsh environments
Supports frequencies from 10 to 50 MHz (Standard frequencies: 10, 12.8, 19.2, 20, 25, 30.72, 38.4 and 50 MHz)

5G RRH and small cell applications require oscillators to operate with tight frequency stability and within harsh environments. The ROM7050PA enables RRH PLLs to use a single reference clock to meet 5G network synchronisation and air interface requirements. The ROM7050PA is the preferred solution when high quality synchronisation is crucial for wireless access points over various operating conditions.

The ROM7050PA is the result of Rakon's continued innovation in miniature OCXO development. Stringent 5G synchronisation requirements necessitate reference clock performance at OCXO level in radio heads and small cells. The ROM7050PA's Mercury+™ ASIC design facilitates a considerable size reduction and cost optimisation from traditional OCXOs, making it the ideal technology solution for use within the equipment.

The ROM7060PA contains advanced algorithms and controls within the IC, an in-house designed smaller SC-cut crystal, specialised thermal simulation/design and state-of-the-art packaging technologies to deliver excellent frequency stability performance in a compact size. Fast warm-up time in low temperatures enables a very low power consumption of only 400 mW. Figure 2 illustrates a 20 ppb stability ROM7050PA, with a warm-up time of less than 15 seconds at -25°C, and less than 20 seconds at -40°C (see Figure 2).

Using Rakon's high-Q SC-cut strip crystals, the ROM7050PA delivers close-in phase noise of 1 Hz – 1 MHz. This makes it the optimal choice for small cells and 5G RRHs when low phase noise is critical. Figure 3 shows a ROM7050A unit's phase noise measured at 10 MHz, with a phase noise floor down to -160 dBc/Hz.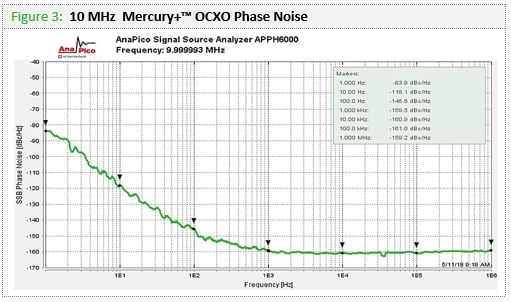 The ROM7050PA achieves a short term stability of ≤1 ppb/day (ageing 0.8 ppm over 10 years optional devices are available on request). The device is highly resilient to airflow, has a low g-sensitivity of 1 ppb/g over a wider temperature range of -40 to 95°C and is currently being qualified over -40 to +105 °C. The ROM7050PA replaces 7 x 5 mm TCXOs in small cells and 5G RRHs, optimising cellular networks' overall performance.
Please view the ROM7050PA datasheet, browse the Mercury+™ miniature OCXO product range on our website or email: sales@rakon.com for further information and support.