Rakon has released its new HSO14, High Stability OCXO, with Allan Deviation in the 10-14 stability class. The HSO14 boasts outstanding short-term stability and excellent close-in phase noise performance. This product is available in 5 MHz and 10 MHz output frequencies and can be adapted for custom frequencies as well.
The standard package size of the HSO14 is 73 x 135 x 84 mm, which is a form, fit, and function replacement solution for the obsoleted OSA8607 previously supplied by Oscilloquartz SA. Alternatively, Rakon offers the HSO13, a more compact version with package dimensions of 67 x 60 x 40 mm.
The HSO14 is an excellent reference oscillator for laboratories, masers, atomic fountains, high precision frequency counters and synthesizers, ground stations for deep-space exploration, as well as for VLBI (Very Long Baseline Interferometry) networks. It offers several options for Allan Deviation, which can be as good as 8E-14 max. from 3 to 30 seconds and 1E-13 max. at 1 second – after 24 hours of stabilisation. Additionally this product offers g-sensitivity below 1 ppb/g, allowing it to be used in environments with micro vibrations. The close-in phase noise performance is guaranteed at -130 dBc/Hz max. at 1 Hz offset in 5 MHz output frequency as shown on the curve below: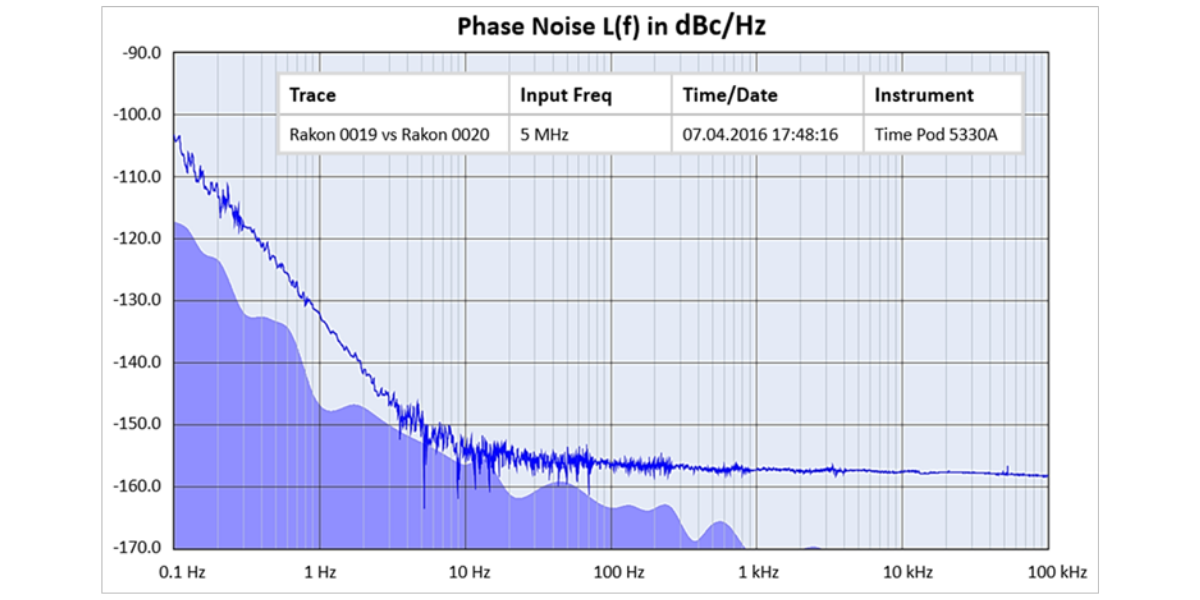 Email hirel@rakon.com for further information and support or browse the OCSO / OCXO page of our website to learn more about Rakon's many low noise SAW and quartz-based ovenised oscillator solutions for telecommunications, space and defence.